2021 Winter LACE - Keynote
Register for the Zoom meeting for each session you wish to attend by clicking on the Register button. Check your inbox for the confirmation email containing a link to join the Zoom meeting on the day of the training. If you do not receive a confirmation email, check your spam or junk folder.
Jerri Rosen, CEO and Founder, Working Wardrobes
The Power of One is a powerful part of the culture at Working Wardrobes.  As the Founder of the organization, I can lay claim to putting one idea into motion BUT it has been the power of each individual volunteer and staff member that has fueled our growth and success.  The Power of One is the story of how many hands have made our organization thrive, even in the midst of a devastating fire and a worldwide pandemic!
Why is The Power of One so vitally important to Working Wardrobes? 
How does The Power of One resonate throughout our organization? 
What has kept The Power of One embedded in our culture for 30 years?
How do we acknowledge the individuals who embody The Power of One concept? 
Where do I see my role in promoting The Power of One? 
How does the culture and philosophy of The Power of One stay long after I've retired? 
How can every one listening in claim a part in The Power of One in their own communities?
Presented by Jerri L. Rosen, Founder and CEO, Working Wardrobes, Orange County CA
In 1990, Jerri Rosen was President of J.L. Rosen & Company, blending 25+ years of marketing communications experience in developing results-oriented planned giving and development programs for nonprofit organizations.
Jerri and five friends found themselves disturbed by the growing statistics of domestic violence. The group set out on a mission to help. With the intention of hosting a onetime only event, they held the first ever "Day of Self-Esteem™," which served 67 women from six shelters. The event became the launching pad for Working Wardrobes. In 1995, the organization received official nonprofit status.
Today, Jerri is the CEO and Founder of an organization that helps over 5,000 men, women, veterans and young adults each year re-enter the workforce with career development services and professional wardrobing. In 2012, the work expanded with the addition of VetNet, a safety net for veterans, who are offered full wraparound services to transition into the civilian workforce.
Now, in its 29th year, Working Wardrobes has served nearly 100,000 clients in Orange, Los Angeles, Riverside, and San Diego counties in partnership with 50 local shelters and social service agencies.
In a nod to Jerri's entrepreneurial spirit, Working Wardrobes operates many successful social enterprises including five resale shops, an active wardrobing center and powerful career development workshops in the community, which account for more than 45% of the organization's budget.
For her ongoing dedication to the community, Jerri has been recognized by civic leaders, government officials, and organizations at the national, state and community levels. As the host of an award-winning cable TV show about Working Wardrobes. Jerri continues to leverage her expertise in advertising, sales, marketing, and public relations. Jerri's newest venture includes Success Talks a podcast highlighting successful philanthropists, in Orange County. She is an effective and entertaining presenter and she speaks to many corporate and community groups in her ongoing effort to build the awareness of the Working Wardrobes mission in our community.
---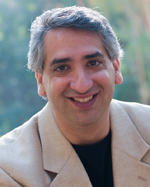 Michael Varma
Leaders Oughta Laugh
If you make people laugh they will follow you anywhere.
Wish you had more time to chill out and just enjoy some funny-bone antics reflecting on leadership - - this is the comedy break you have been waiting for!
Watch and enjoy an impromptu discussion about humor with Distinguished Toastmasters Michael Varma, David Moore, and Chris Knierim who collectively have more than 90 years of experience of laughing at people, places, and situations. Keep a pen and paper nearby or have your fingers poised over your keyboard so you can capture more than 50 clean and clever one-liners on leadership, mentoring, feedback, training and much, much more. 
If you find the material disagreeable - turn it off. But we hope you find some fun in it - turn it up.
Michael Varma is a magician, author, and award-winning instructor who reveals trade secretsin his books, educational games and workshops for your success. He is a two-time winner of the Diamond Web Award for outstanding website design and social media. His brand of edu-tainment earned him the Governor's Citation for "extraordinary public relations."  Michael Varma was recognized, directly from White House for his innovation in marketing for Toastmasters International.
---